Biographical note: Adesegun Akin-Olugbade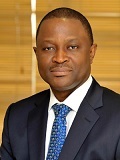 Dr. Adesegun A. Akin-Olugbade is the Founder and Principal Partner of Luwaji Nominees, a corporate management, consulting, and advisory services firm.
He is a graduate of King's College London and Harvard Law School, in addition to being the Best Overall Student at the Nigerian Law School in 1984. He has served for over 30 years in the legal profession and financial services sector, having worked at both the technical and executive management level, in the public and private sector for leading commercial law firms and multilateral financial institutions. He was previously General Counsel and senior Director at the African Development Bank (AfDB) and the first Chief Legal Officer and Head of the Legal Services Department of the African Export-Import Bank (Afreximbank). He retired as Executive Director (Chief Operating Officer), General Counsel and Corporate Secretary of Africa Finance Corporation (AFC) in December 2018. He currently consults for Clifford Chance Worldwide and AELEX Partners in Nigeria.
Dr Adesegun Akin-Olugbade has extensive corporate management experience. He is the Chairman or Vice Chairman of several companies in Nigeria, including NSIA Insurance Limited, Utica Capital Limited, Mouka Limited, O.B.A. International Limited, Southern Marine Petroleum Limited, and Axion Realty & Development Company Limited. He is member of the Board of Directors of NG Clearing Limited, a financial market infrastructure driving the clearing and settlement of Exchange Traded Derivatives Instruments in the Nigerian Capital Markets. He was a non-Executive Director and Chairman of the Governance Committee of Ecobank Transnational Limited (ETI) and a former Managing Partner of AFC Equity Investments Limited, Mauritius. He is a founding shareholder and former Non-Executive Director of Asset & Resources Management Company Limited (ARM), Nigeria.
He is an Officer of the Order of the Niger (OON), Nigeria.