Biographical note: Agasha Mugasha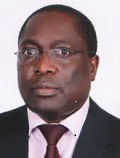 Agasha is a Professor of Law at Gulu University in Uganda. He lectures banking and finance law, international trade and business law, and general commercial law. He began his academic career in New Zealand and Australia, where he authored The Law of Letters of Credit and Bank Guarantees (Federation Press) before moving to the University of Essex in the UK and authoring The Law of Multi-Bank Financing (Syndicated Loans and the Secondary Loan Market) (Oxford University Press). He has also lectured in several countries including Canada, China, Italy and USA.
In 2011-15, he was the Chairperson of the Uganda Law Reform Commission. A former Commonwealth Scholar, he is keenly interested in the practical application of the law and improving the profile of developing countries in the global economy.
Agasha obtained a Bachelor of Laws degree from Makerere University and the Master of Laws and PhD degrees from Osgoode Hall Law School of York University in Toronto, Canada.