Biographical note: Charles Proctor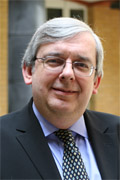 Charles Proctor is a Partner is the London office of Bird & Bird, an international law firm. Mr Proctor has practised in the banking and financial services field for over 25 years, both in London and the Far East.
He has published three books and numerous articles on various aspects of banking law, including the Sixth Edition of Mann on the Legal Aspect of Money, which is regarded as the leading text in its field.
He holds the degree of Doctor of Laws and is an honorary professor in the School of Law, University of Birmingham.