Biographical note: Christos Gortsos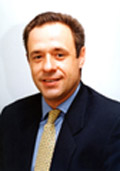 Christos Gortsos is Professor of Public Economic Law at the Law School of the National and Kapodistrian University of Athens and Visiting Professor of International and EU Financial Law at the European Institute of the University of Saarland. He also has regular teaching assignments at the European Institute of the University of Zürich and the European Law Academy (ERA). In addition, and inter alia, he is Research Partner in the University Research Priority Program (URPP): Financial Market Regulation of the University of Zürich, Research Associate at the European Research Centre for Economic and Financial Governance (EURO-CEFG), as well as member of the MOCOMILA and of the Academic Board of the European Banking Institute (EBI).
The main fields of his research interests and teaching include international and EU monetary and financial law, central banking law, financial regulation and institutional economics, fields in which he has published extensively. In the winter semester of the 2017-2018 academic year he was awarded the Fernand Braudel Senior Fellowship at the European University Institute (EUI) in Florence (Department of Law), and for the period September - October 2018 he was elected as Academic Visitor at St Antony's College (Oxford University).