Biographical note: Christos Gortsos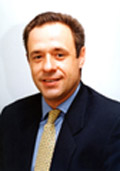 After having graduated from the German School of Athens (Dörpfeld Gymnasium) in 1979 (Apolytirion of the Hellenic Ministry of Education and Abitur of the German Ministry of Education), he pursued his academic education in law (University of Athens, Law School, Degree in Law, University of Zürich, Law School, Pre-diploma (Diplom-Vorprüfung) and University of Geneva, Graduate Institute of International Studies ('ΙUΗΕΙ'), Master's degree (D.E.S.) in International Law) and economics (University of Athens, School of Economics, Degree in Economics, University of Geneva, ΙUΗΕΙ, Master's degree (D.E.S.) in International Macroeconomics). He received his PhD in 1996 from the University of Geneva, ΙUΗΕΙ; Thesis title: International and Regional Regimes for the Prudential Regulation of International Banks (grade: magna cum laude (Thesis), summa cum laude (viva)).
He is Visiting Professor at the Europa Institut of the University of Saarland (since the 2008-2009 academic year), at the European Law and Governance School (ELGS) of the European Public Law Organisation (EPLO) (since the 2015-2106 academic year) and, since June 2022, at the Frankfurt School of Finance and Management. Since the 2014-2015 academic year, he also holds a teaching position at the Europa Institut of the University of Zürich, lecturing in the LL.M. Program in International Economic Law and the Certificate of Advanced Studies (CAS) Program in Financial Markets Law. Since 2012, he also regularly lectures in conferences and Summer Schools organised by the European Law Academy (ERA) in Trier.
The main fields of his research, teaching and publication activities are public economic law, EMU law, international, EU and Greek financial regulation (banking, capital markets and insurance) and institutional economics.
In the winter semester of the 2017-2018 academic year, he was awarded the Fernand Braudel Senior Fellowship at the European University Institute (EUI) in Florence (Department of Law), during which he conducted his Research Project on: "The EU framework on banking resolution" and taught (with EUI Professor Stefan Grundmann) the course "Introduction to European (EU) Financial Law". For the period September – October 2018 he was Academic Visitor at St Antony's College, University of Oxford affiliated to the Political Economy for Financial Markets (PEFM) programme.
During the Academic Year 2022-2023 (in a sabbatical leave from the NKUA) he is Visiting Scholar at the Faculty of Law of the University of Zürich and Senior Fellow at the Collegium Helveticum (a Joint Institute of Advanced Studies of the University of Zürich and the Federal Polytechnic School in Zürich (ETH)).