Biographical note: Christos Gortsos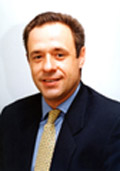 Christos Gortsos is Associate Professor of International Economic Law at the Panteion University of Athens. His fields of expertise are international, European and Hellenic financial and monetary law, as well as economic analysis of law.
He studied law, economics and finance at the Universities of Athens, Zürich, Pennsylvania (Wharton Business School) and Geneva (Graduate Institute of International Studies). Since 2005 he is a member of MoComILA, and since 2007 a member of the Financial Services Experts Group of the European Parliament.
Apart from his academic curriculum, Prof. Gortsos, a member of the Athens Bar Association, is, since July 2000, the Secretary General of the Hellenic Bank Association.