Biographical note: David Gross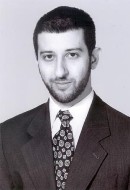 David Gross is the secretary of MOCOMILA and assistant general counsel and senior vice president in the legal group at the Federal Reserve Bank of New York, where he works in the Enforcement, Litigation, and Investigations Division. Mr. Gross joined the Bank as an attorney in September of 2000. He became an officer of the New York Fed in December 2002, when he was promoted to counsel. He was named assistant vice president in December 2005, vice president in June 2008, and senior vice president in December 2014.
Prior to joining the New York Fed, Mr. Gross served as an assistant district attorney at the New York County District Attorney's Office from 1995 - 2000, where he worked in Trial Bureau 50. While working in that office, Mr. Gross served in the Domestic Violence Unit and the Sex Crimes Unit.
Mr. Gross earned his law degree from the Columbia University Law School in 1995 after earning a Bachelor of Arts degree from Yale University in 1991. He is a member of the New York bar.