Biographical note: François Gianviti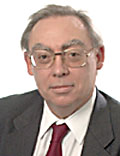 Mr. Gianviti was Director of the Legal Department of the International Monetary Fund from January 1986, and General Counsel from 1987, until his retirement from the IMF in December 2004.
He graduated from the Sorbonne (licence ès lettres) and the Faculté de Droit et Sciences Economiques de Paris (licence en droit, diplôme d'études supérieures de droit pénal et science criminelle, diplôme d'études supérieures de droit privé, and doctorat d'Etat en droit). He also studied at The Hague Academy of International Law and New York University School of Law.
In 1968, he was admitted to the Paris Bar. In 1969, he obtained the agrégation de droit and was appointed Professor of Law. From 1970 to 1974, he was seconded to the IMF Legal Department. In 1974, he became Professor of Law at the University of Paris XII. He was Dean of the School of Law from 1979 to 1985.
He is a consultant to the OECD and the IMF and a member of the Qatar Financial Centre Regulatory Tribunal.
He has lectured and written extensively on questions of international monetary and financial law and is a member of the International Monetary Law Committee of the International Law Association.
He is Chevalier des Palmes Académiques (France) and Chevalier dans l'Ordre National du Mérite (France).