Biographical note: Jean-Victor Louis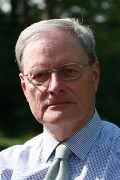 Professor Université libre de Bruxelles - ULB (1971-2003); Hon. professor, ULB (2003- ); president, Institute of European Studies of the ULB (1980-1992); part time Professor, European University Institute, Florence (1998-2003); hon. degree, University of Paris II (2001); general counsel, National Bank of Belgium (1980-1998).
President, Foundation Philippe Wiener- Maurice Anspach; general editor, Cahiers de droit européen; acting secretary general and member of the Board, Trans European Policy Studies Association -TEPSA, member of European Constitutional Law Network (ECLN).
Many publications on European Community law, especially on institutions, external relations and Economic and Monetary Union.