Biographical note: Rosa Lastra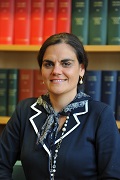 Rosa María Lastra is Professor in International Financial and Monetary Law at the Centre for Commercial Law Studies, Queen Mary, University of London. She is a member of MOCOMILA, a founding member of the European Shadow Financial Regulatory Committee, a senior research associate of the Financial Markets Group of the London School of Economics and Political Science, and an affiliated scholar of the Centre for the Study of Central Banks at New York University School of Law.
She has consulted for the International Monetary Fund, the World Bank, the Asian Development Bank, the Federal Reserve Bank of New York and others. She has recently been have been appointed Specialist Adviser to the European Union Committee [Sub-Committee A] of the House of Lords regarding its Inquiry into EU Financial Regulation. She has published extensively in the field of monetary and financial law.